Exceptional Christmas!
Santa Claus and Charon have some awesome gifts for you!
We would like to wish you merry Christmas and a happy New Year 2019.
Thank you for playing the game and helping us make it even better!
We hope that we can count on your support in the coming year.
Merry Christmas!
-BWTeam-
Christmas bonuses!
Every year we prepare a little Christmas surprise for you. Here's what's going to happen this year:
24.12.2018 - 02.01.2019 Bonuses for logging in.
Between 24 December and 2 January you'll get more and more prizes by logging in every day.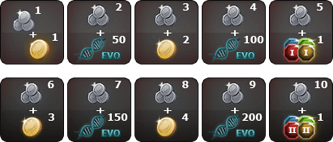 Christmas events!
21.12.2018 – 31.12.2018 Charon's Madness!
Charon's coming to the City again to offer premium services at a discount. And of course there'll be a lottery. This holiday season items will no longer be awarded (instead you'll get treasure points), same as people and blood! We've also increased the number of bonus awards:
75x random level 1 runes!
25x random level 2 runes!
100x +250 evo points!
100x +1000 free FLD points!
21.12.2018 Solar Storm.
Due to disturbances in the magnetosphere caused by solar activity: buildings, prefixes, suffixes and set effect no longer work in PvP.
WARNING! Item requirements stay the same. Perhaps it'd be a good idea to buy some handy clubs and knives?
22.12.2018 - 23.12.2018 Seekers' Day.
Loads of luck!
24.12.2018 - 26.12.2018 Souvenir shop.
Your favourite trader is back in the City!
27.12.2018 - 31.12.2018 Cain's Holiday Vision Deluxe.
Even more luck, double evo points for attacking and +50% chance of finding a rune!
1.01.2019 - 2.01.2019 Night of Heroes.
This night no monster can feel safe.