Exceptional Christmas!
Santa Claus together with Charon have some incredible gifts for you!
Dear vampires,
We would like to wish you all a merry Christmas. May this holiday season be filled with love, kindness, and warmth. We would also like to wish you all the best in the coming year. May you succeed in all your endeavours.
Thank you very much for being with us and constantly helping us improve Blood Wars!
Merry Christmas!
-BWTeam-
Christmas bonuses!
Every year, we have some goodies to make your Christmas even merrier. Here's what's coming this year:
24.12.2022 - 02.01.2023 Bonuses for logging in.
Every day you log in between 24 December and 2 January gives you access to a new level of rewards.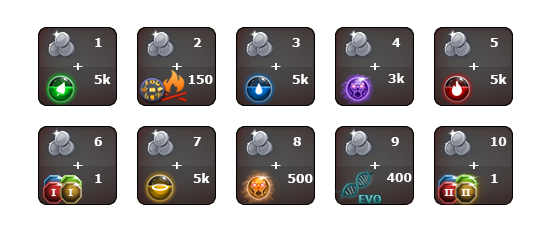 Christmas events!
21.12.2022 – 31.12.2022 Charon's Madness!
Charon is coming to the City with special premium packages. Of course the lottery will also be there. This Christmas you can win:
100x +300 treasure points!
75x random level one runes!
25x random level two runes!
100x +300 evolution points!
100x +1600 free FLD points!
40x +50 epic coins (Necro) / random level 2 Soul rune (Underworld)!
10x +150 epic coins (Necro) / random level 3 Soul rune (Underworld)!
21.12.2022 Solar Storm.
Due to disturbances in the magnetosphere caused by the Sun's activity, buildings, prefixes, suffixes and set effects will not work in PvP.
WARNING! Item requirements remain the same. You might want to make sure you can still wear your equipment!
22.12.2022 - 23.12.2022 Day of the Seekers.
Lots of luck!
24.12.2022 - 26.12.2022 Souvenir shop.
Your favourite trader is back in the City!
27.12.2022 - 31.12.2022 Cain's Holiday Vision de Luxe.
Even more luck, 2x more evolution points per attack and +50% chance for a rune!
1.01.2023 - 2.01.2023 Night of Heroes.
This night no monster can feel safe.
Epic sets and season 6 on Necropolis!
Tomorrow (13.12.2022) season 6 will Begin on Necropolis! On this day, all Necropolis-type servers (seasonal and non-seasonal) will gain access to Epic set bonuses!
In addition to that, we're making some changes in season 6:
Killing a boss during a Journey will provide two rewards. The first is a fixed amount of experience, the other is random (e.g. evolution points, free FLD, runes, etc.).
Winning on the arena will provide many more evolution points than now. The participation bonus will remain the same. The number of coins gained will also increase.
There'll also be some new bonuses available for silver and gold coins, e.g. increased damage during expeditions, decreased chance for a negative enchantment effect, increased number of essences gained when attacking.
We've also increased the number of bonus evolution points for participating in the previous season – every player who decided to continue playing will get 1000 evolution points, no matter their standing!